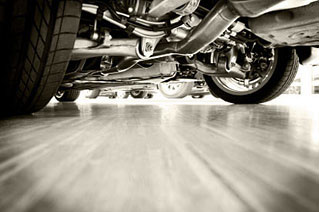 A&A Auto Service specializes in Brake Repair and Wheel Alignments for cars, large and small trucks, vans, SUV's and motor homes. We have the equipment, training and experience to complete these difficult jobs correctly.
Brakes
Here at A&A Auto Service we advises our customers to have their brakes inspected yearly, or immediately when  Brake or ABS warning lights are illuminated, if a grinding metallic noise is heard, or when brakes grab sharply or fade with a spongy brake pedal.
Wheel Alignment
Over time front and rear wheel alignment angles change due to normal wear and tear of ball joint sockets, rubber bushings and mechanical linkages. This wear can cause large variances in factory alignment specs resulting in poor handling, sloppy steering wheel play as well as very significant increase in tire wear.
A&A Auto Service advises our customers to have an alignment check whenever experiencing poor handling or vehicle pulls, abnormal tire wear and every time new tires are purchased.
Brake Services
Brake Inspections
Disc & Drum Brakes
Anti-lock Brakes
Calipers
Wheel Cylinders
Brake Hoses
Machining of Drums / Rotors
Wheel Alignment Services
Wheel Alignment Checks
Wheel Alignment
Ball Joints
Inner & Outer Tie Rods
Idler Arms
Pitman Arms